K2 is the 2nd tallest of the world's 14 tallest mountains—all higher than 8,000 meters.
It is considered extremely dangerous because of the complex climbing route required to reach the top. On the afternoon of Saturday, January 16th, Nims and his team completed the summit in the harshest winter conditions, an expedition that has NEVER been achieved before. Summiting K2 in winter has become one of the greatest mountaineering achievements sought after by world-class climbers.
THE MEN THAT MADE HISTORY
NIMS & HIS TEAM OF MOUNTAINEERS
Until Nims & team conquered the project, the 28,250 foot peak in winter was believed to be impossible – but Nims & his and his unbeatable team took this as an opportunity to make another staple in history.

Summiting team members include:
Nimsdai Purja
Mingma Tenzi Sherpa (Team Nimsdai)
Geljen Sherpa (Team Nimsdai)
Pem Chiri Sherpa (Team Nimsdai)
Dawa Temba Sherpa (Team Nimsdai)
Mingma G
Dawa Tenjin Sherpa (Team Mingma G)
Kilu Pemba Sherpa (Team Mingma G)
Sona Sherpa (SST)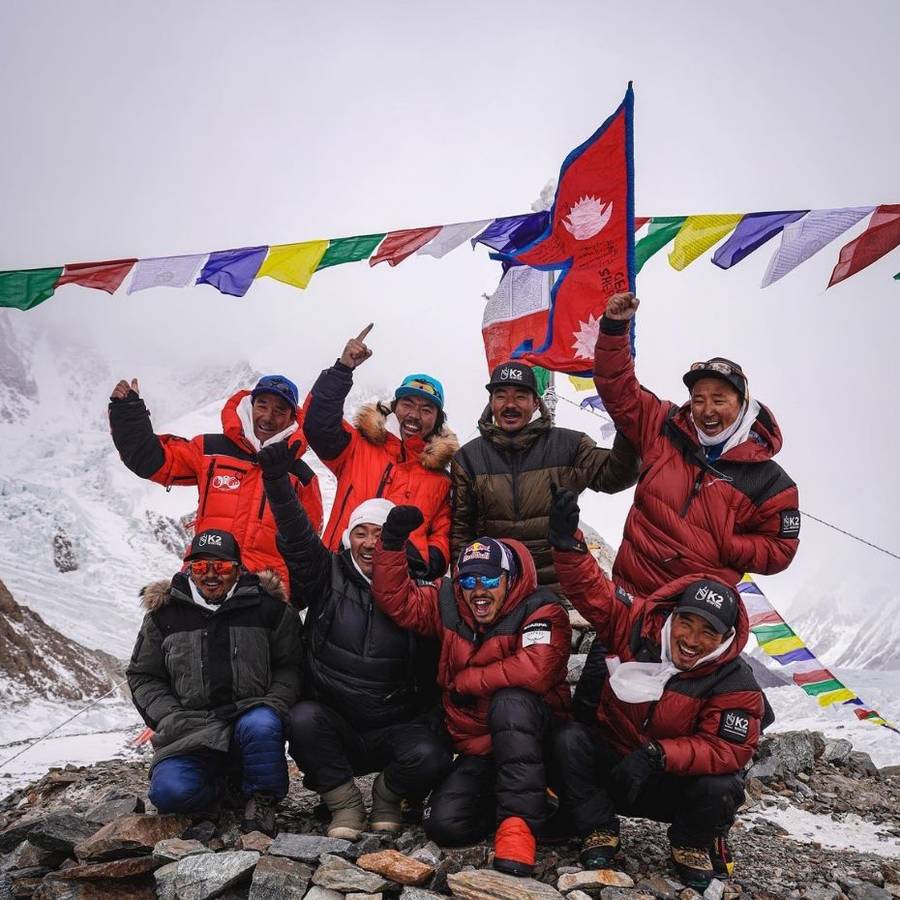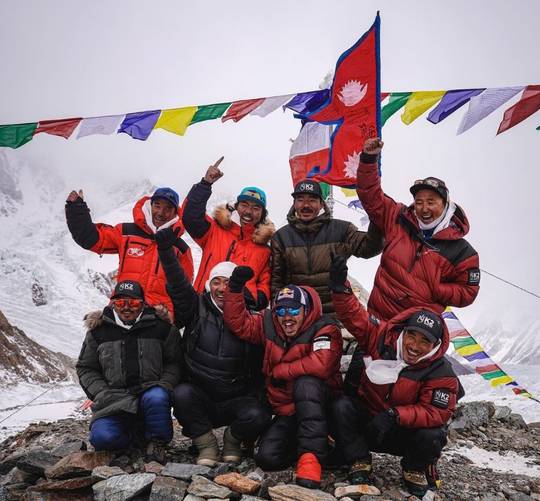 "CLIMBING K2 IN THE WINTER IS NOT PURELY ABOUT SETTING A WORLD RECORD, IT'S ABOUT THE ACHIEVEMENT IT REPRESENTS FOR MY FELLOW GURKHAS, FOR MY SHERPA BROTHERS BUT ABOVE ALL, FOR THE HUMAN RACE AS A WHOLE."
THE EQUIPMENT BEHIND THE HISTORIC MOMENT
THE ThruDark SUMMIT SUIT
For the expedition, the ThruDark team developed a state of the art Summit Suit tailored for Nims every need with vast improvements from the original NimsDai Summit Suit.

The ThruDark Summit Suit is the flagship for many developments we sell today, including the formidable SF Patriot Jacket & SF Expedition Parka using the same technologies such as Dyneema X Cordura Manju abrasion-resistant fabric, the durable, water-repellant Pertex® Quantum outer layer and injected with 100% Italian Goose down, packed with 850 Fill Power providing superior warmth to weight ratio without compromising on durability.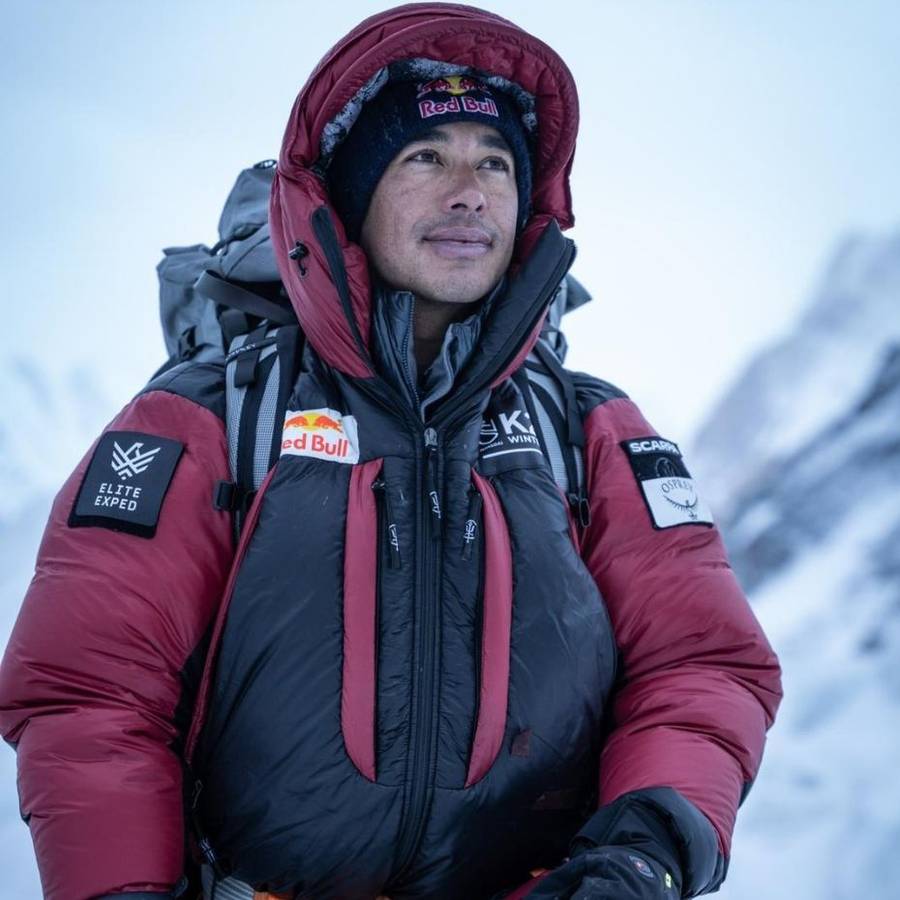 "K2 WINTER WAS A BEAST OF A CHALLENGE. I FIRMLY BELIEVE THAT A FEAT OF SUCH CALIBRE IS NEVER POSSIBLE IF YOU DON'T HAVE A PURPOSE OR IF IT IS ONLY AIMED FOR YOUR OWN SELF-GLORY."
ThruDark PRODUCTS WORN BY NIMS
DURING THIS HISTORIC PROJECT
Bespoke K2 Winter Summit Suit – Developed to defend against the most severe weather on the planet.

SF Patriot Jacket – £595

A durable water repellant Pertex® Quantum outer is injected with 100% Italian Goose down, packed with 850 Fill Power providing superior warmth to weight ratio without compromising on durability.

SF Phalanx Fleece – £235

A mid-layer designed to provide essential warmth for layering up in mid-low temperature environments.

SF Breach Jacket – £595

Toughened with Cordura® reinforcements on the shoulders and elbows, providing enduring abrasion resistance.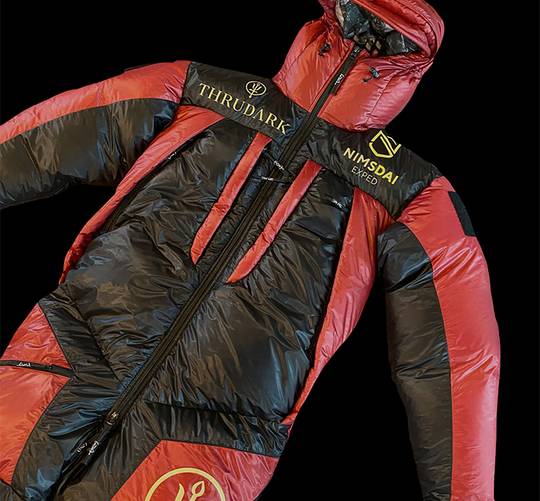 "BROTHER TO BROTHER, SHOULDER TO SHOULDER, WE WALKED TOGETHER TO THE SUMMIT WHILST SINGING THE NEPALI NATIONAL ANTHEM. WE ALL STOPPED AROUND 10M BEFORE REACHING THE SUMMIT TO HUDDLE AND MAKE OUR FINAL STEPS TOGETHER AS A TEAM TO MARK THIS HISTORICAL FEAT, THE FIRST ASCENT OF K2 IN WINTER."
IN NIMS OWN WORDS:
IT WAS MY CHOICE AND I HAD MY OWN
"I have always known what my mind and body are capable of. To lay it out straight, on my previous evolutions I had been carrying oxygen from 8000m and above, but I was personally satisfied with my work efficiency up to 8000m. It was my choice and I had my own reasons and ethos."

It was a tough call this time in order to make that decision whether to climb with or without supplementary oxygen (O2). Due to the weather conditions and time frame, I hadn't acclimatised adequately. I was only able to sleep as high as Camp 2 (6,600m). Ideally, climbers need to sleep OR at least touch Camp 4 before heading for a summit push. Lack of acclimatisation, developed frostbite from the first rotation and slowing down other team members, risking everyone's safety, were the key uncertainties associated.

The safety of my team is and always have been my top priority above all. I have lead 20 successful expeditions so far and all my team members have returned home the exact way that they had left home i.e. without losing any fingers or toes.

I took a calculated risk this time and I pressed on without supplementary O2. My self-confidence, knowing my body's strength, capability and my experience from climbing the 14 x 8000ers enabled me to keep up with the rest of the team members and yet lead."

A huge congratulations from everybody at ThruDark to Nims & his team's incredible achievement. We can't wait to see what future expeditions hold for this next-level mountaineer & athlete and continuing to work with him as a ThruDark Ambassador.